De discussie over een keuze voor inclusief dan welk exclusief Talent Management dient niet langer gevoerd te worden. Bekijk ze als de Yin en Yang van je organisatie, met elkaar verbonden en elkaar beïnvloedend. Ervaar vooral de meerwaarde van hun complementariteit.
Is het niet voor de hand liggend dat iedereen in de organisatie zich dient te ontwikkelen? Het is namelijk evident dat elke job inhoudelijk evolueert. Eénieder van ons dient zich qua kennis en vaardigheden voortdurend bij te schaven om actueel te blijven, om goede prestaties te kunnen blijven leveren. Dit geldt zowel voor mijn broer als tuinaanlegger, als voor mijn vriendin als logopediste of een andere als verantwoordelijke voor de rapportering bij een bank, als voor mezelf als Talent Review consultant.
Vandaar ook is dit een pleidooi om in te zetten op een inclusief Talent Management. Zorg ervoor dat medewerkers hun weg vinden in hoe zij hun kennis en vaardigheden kunnen versterken. Dit zie ik als de Yin van de organisatie:het aandacht geven aan alle medewerkers, het omarmen van ieders ontwikkeling.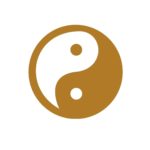 Daarnaast is er nood aan oog voor de Yang-zijde, zijnde specifieke doelgroepen die op dat moment een unieke bijdrage leveren aan specifieke strategische doelstellingen van de organisatie. Elke strategische doelstelling roept op het vlak van Talent Management niet enkel de vraag op bij de leden van het directiecomité over …
'met wie zullen we deze doelstellingen realiseren?', maar ook
'welke impact heeft elk van deze doelstellingen op de kennis en vaardigheden van specifieke groepen van medewerkers en hoe kunnen we de betrokkenen hier proactief op voorbereiden?'
Hier start de gerichte aandacht voor een groep medewerkers die een specifieke impact zal ervaren van de strategische keuzes. Laat ons dit als exclusief Talent Management benoemen.
Nu bestaat er weliswaar een aanpak om tot een mix van inclusief en exclusief TM te komen voor jouw organisatie. Dit beproefd concept is nu al door een aantal organisaties succesvol toegepast en omvat 4 stappen:
Vertaal de strategische keuzes van de organisatie naar de impact op de medewerkers
Een strategische keuze bij heel wat organisaties is om in te zetten op een hogere klantentevredenheid. Stel dat we een hogere klantentevredenheid nastreven, welke medewerkers zijn hier dan prioritair bij betrokken omdat zij voor een hefboom effect zouden kunnen zorgen bij het bereiken van deze doelstelling? Wat is het gewenste profiel van deze medewerkers? Is er impact op hun rol, de vereiste kennis of vaardigheden specifiek omwille van deze prioritaire focus op het verhogen van de klantentevredenheid? Hoe kunnen we proactief inzetten op hun ontwikkeling om dit strategisch doel te realiseren?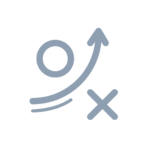 2.Definieer de gewenste talent cultuur
Hoe kijken we vandaag naar talent binnen onze organisatie? Wat is onze huidige en gewenste balans tussen een inclusieve, dan wel een exclusieve benadering? Welke keuzes maken we vandaag bij de invulling van een vacature en welke overtuigingen gaan hierachter schuil? Geloven we dat talent aangeboren is, waardoor we extern dienen op zoek te gaan naar mensen met een 'aangeboren klantgerichtheid' of leeft de overtuiging dat éénieder deze vaardigheid kan ontwikkelen of versterken?
Vanuit een inzicht in de huidige talent cultuur, kan besproken worden hoe de gewenste cultuur eruit dient te zien.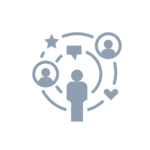 3. Identificeer naar wie actie dient genomen te worden
De strategische doelstelling bepaalt naar wie we ons dienen te richten voor de realisatie ervan.  Op welke groepen van medewerkers willen we prioritair inzetten, gezien zij de grootste impact hebben op bv. de klantentevredenheid?
Contact center medewerkers?
Sales medewerkers?
Marketeers?
Medewerkers binnen kwaliteit?
Andere ?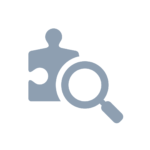 4. Bepaal welke acties dienen genomen te worden naar elk van deze doelgroepen
De gewenste talent cultuur zal mee bepalen welke acties je zal ondernemen naar de geselecteerde doelgroep(en). Om op ons voorbeeld verder te bouwen, stel dat de overtuiging leeft dat talent schaars is en je al een zekere klanten'feeling' dient te hebben om de vereiste vaardigheden te versterken, dan zullen we mogelijks afscheid dienen te nemen van een aantal sales medewerkers die de vereiste evolutie niet kunnen realiseren én een aantal externe krachten dienen aan te werven. Dit is een ander verhaal wanneer de overtuiging is dat elke medewerker in staat is om zich te ontwikkelen in lijn met de nieuwe vereisten en doelstellingen en we dus volop inzetten op opleiding, ervaringsgericht leren, feedback, …. De gekozen talent cultuur bepaalt dus welke acties we al dan niet zullen opstarten.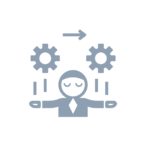 Zoals elke strategische oefening, gaat het ook bij deze oefening over keuzes maken. Maar dan niet de keuze tussen of inclusief Talent Management of exclusief Talent Management. Wel over de balans tussen beide en hoe deze balans naar de praktijk te vertalen.